*******IN MEMORIUM*******
From Lou, W9LRS:
He reports that long time net member, Warren, W9OWV, passed away on 21 September 2014. Warren is a retired broadcast engineer from ABC. Click below for the obit.
OBITUARY FOR WARREN-CLICK HERE
************************************************************
.
Norman Thomas Hunt, of DeForest, WI died quietly at Agrace Hospice on Thursday afternoon, June 26, 2014, with family close at his side. He said his goodbyes over the last weeks with the special grace and humor that had been typically his all across his long illness. Norm was born December 16, 1944, in Westfield, PA. He was a proud 32 degree Mason through the Coudersport PA Consistory, as of June 9, 2001. He married Margaret Ann Draper on Sept 30, 1998 in Ellicott City, Maryland. The couple moved to Madison in 2005 where Norm created lasting friendships with the 75M Ham Radio community as he enjoyed his retirement.
++++++++++++++++++++++++++++++++++++
I am saddened to report that another MCRN member has passed away. Harold, W9DIK of Waukegan, IL became a SK on February 14th 2014. Harold lost his wife a few years ago. Blind since birth, Harold enjoyed playing the harmonica and said that the highlight of his life was meeting Ray Charles. He often used the phonetics "What Do I Know". (Thanks to Pierre, K9EYE for providing information about Harold)
++++++++++++++++++++++++++++++++++++



CHARLES YORK, WA9YEQ (SK)

MUSKEGO, WI




Charles had a bad fall on 4 Dec 2013, that he never recovered from and he passed away 3 weeks later on the 28th.

He was a very frequent participant to the Midwest Classic Radio Net, always cheerful, full of humor and helpful.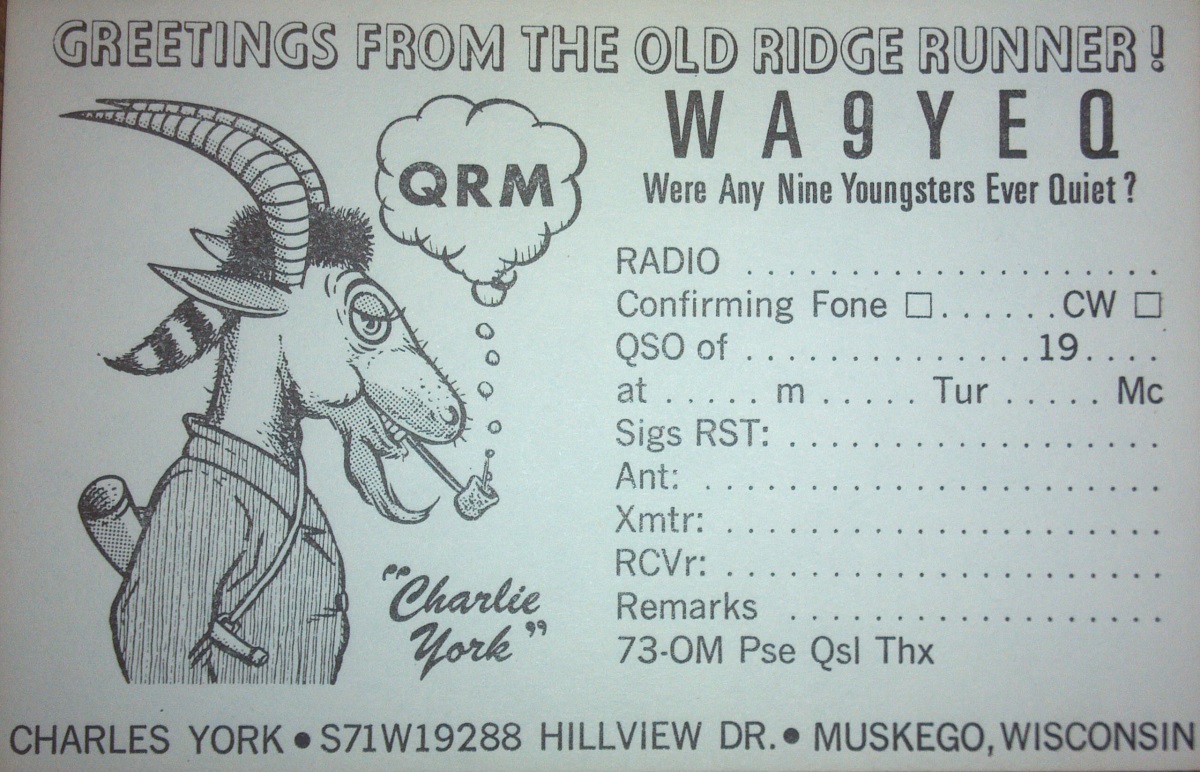 From Dave, KC9CLM, Charles' son:
Here is a picture of dad's QSL card for anyone that didn't get one in the conventional manner. Note that his card was specifically designed to NOT include SSB in the mode area. Dad was truly an AM only operator!! Ocassionally he operated some CW for good measure.
Dad spoke often about the net and how helpful and nice all the guys were. If anything was planned for Saturday morning it was always planned around his net time!
From Pat, WB9GKZ:
Charles was quite the ham. I used to listen to him in the late 1960's after I built my Star Roamer... because he was on AM!
One time, I was at the Grayslake hamfest. I was with Jim K9RJ and others. Charles walked up, looking very tired and thirsty, it was a hot one that day. We gave him something to drink and sat him down in a lawn chair. He was happy to stop and talk (in that wonderful drawl). He then went merrily on his way looking for treasures. He was a very humble and grateful individual.
Charles pronounced crystal, kris-chee-yell and pronounced chimney, chim-blee. I learned these "correct" pronunciations of common words when I listened to him on 75 meter AM.
***************************************************
From Don, K9MUF:
Knowing that Charles was from Tennessee and that his name was York, I once asked him whether he was related to Sergeant York, the famous WW1 hero. He said that he was a distant relative, but I can't remember what that was. Charles was also a Korean war vet; but most people probably know that.
*************
From Rodger, WQ9E:
I'm sorry I never got to meet Charles in person, he was definitely one of the good guys.
******************************************************************
.
30 JAN 2014
JUST RECEIVED WORD REGARDING THE PASSING OF ANOTHER NET MEMBER FROM Karl, KC9AA
photo courtesy of Fred W9VFD
RON, K9GEC SK
SEE THE OBITUARY FOR RON-CLICK HERE
+++++++++++++++++++++++++++++++++++++++++++++++++++++++++++++++++++
The following information was received from Karl, KC9AA regarding the passing of MCRN member, Ron Doering, on June 7, 2013:
Good morning Harry. Here is the obituary and some pictures of my good friend Ron, WA9QNN. Ron is the brother-in-law of John, WD9JIM. Ron was very active on HF and enjoyed working AM and SSB but his real passion was QRP CW. He was an original member of the 807 Club which started on 40 meter CW in 1979 and is still running to this day on 3963. Ron was responsible for me becoming a ham as well as a bunch of others here in NW Wisconsin.
Ron and his wonderful wife Nancy resided in White Lake, WI.




Karl KC9AA

Ronald J. Doering

Ronald J. Doering, age 66, of White Lake and formerly of Kaukauna, passed away Friday, June 7, 2013, at Bellin Hospital in Green Bay. He was born on August 19, 1946, in Appleton to the late Ralph and Margaret (Kraft) Doering. Ron was united in marriage to Nancy Brautigam on September 4, 1971, and they spent 41 years together. He graduated from Kaukauna High School, Milwaukee School of Engineering, UW-Madison, and proudly served his country in the U.S. Army in Vietnam from 1969 to 1970.

Ron worked for numerous companies and ended with the Department of Defense in Milwaukee. He greatly enjoyed fishing, hunting, amateur "ham" radio, and restoring old radios. Ron loved spending time with his family and friends. He could talk to anyone and often did. He was involved in the American Legion Riders, Patriot Guard, and Rolling Thunder.
NOVEMBER 15, 2011
AL, KO9S
MCRN MEMBER, ALLEN COIL, DIED AT AGE 66
AL WAS A RETIRED ENGINEER
CONDOLENCES TO HIS WIFE, BARBARA
Guest Book Entry November 28, 2011
Allen had many friends who never actually met him in person. He was a ham radio operator who enjoyed vintage ham radios. He checked into a Saturday morning net often: The Midwest Classic Radio Net. I am one of those radio friends and we are going to miss Al on the net. He was a real gentleman. My condolences to Barbara and the family. Harry, N9CQX, Willowbrook, IL
*******IN MEMORIUM*******
CHARLES H. HAUT
born: 20 May 1933 W9UB SK: 21 December 2010
Dear brother of the MCRN who was respected for his vast knowledge and
forthright, no-nonsense approach to all issues-you are deeply missed
by all your radio friends. Our prayers to XYL, Donna and the Haut family.
*****************************************************
Chuck at a hamfest
W9UB SK 2010
*********************************************
August 5, 2009
I have just learned from Bill, W9WR,
that Ron, WB9IMR, lost his XYL.
Janet C. Grams died unexpectedly
on August 4th
The services will be private.
Ron, our hearts and prayers go out to you.
***********************************************
From Ron, WB9IMR, who reports the passing of George Sapocko, former owner of "Radio-TV Labs" located on the 5700 Block of Irving Park Blvd, Chicago:


22 July, 2009
HARRY,
I found out this afternoon that George Sopocko, WA9JEZ passed away about a week ago. I found this out from his son in law. George had a procedure performed on him about 4-5 weeks ago to clear a blocked artery. Apparently it triggered blockage in other areas of his body that damaged other organs in his body including his bowels and kidney's.
Definitely sad news. I have known George since 1967 when he came to my High School to help with setting up a radio club. Over the years I must have visited his shop on Irving Park in Chicago over a 200 times. He was a unique individual and one who could fix anything with tubes in it!! I will miss him.
Following is part of a reading done at the graveside service
for George by his daughter, Sandy
RON - WB9IMR
George Sopocko, was born on March 16, 1925 in Poland and died on Friday, July 17, 2009. He was 84 years old. He had continued until then working with all his old electronic equipment - restoring and repairing and just enjoying. He always had a great interest in electronics even as a child in Poland. He had a dream to come to the United States and have a life here with his own business and that he did.
He was a veteran, a hero from World War II, a member of the Polish underground where he did his part in the fight against Hitler. That part of his life affected the rest of his life forever.
Physically, he had lost much of his hearing ability because of difficult experiences during thewar. He was in very close contact to the explosion of a grenade and he had beenbeaten by Nazi soldiers causing injury to his ears. The Nazis had captured him
and put in a German prisoner of war camp. Most of you have heard from him many of his war stories.
After the war, he spent two years living in Germany before boldly and bravely coming to the United States. He did become self employed and opened his store. He married and had two daughters. He made many friends and helped many to learn about electronics and Ham Radio. He was a member and officer of The Electronic Service
Dealers Association and a member and president of the Chicago Amateur Radio Club for many years.
He traveled, loved to cook, to read, and work on crossword puzzles.
*****************************
July 28, 2009, from George, K9GDT:
I first became aware of George when I returned from a two-year corporate stint on the east coast in the early 70s. I moved to North Evanston and one of my new neighbors, who knew I was into homebrewing, told me about Radio-TV Lab, recommending George as a source of reasonably priced hard-to-find radio parts.

Not only was he reasonably priced, but I could negotiate little freebie extras and sometimes no tax on the sale! It was kind of a sport between us. ...a sport we both enjoyed.

Later, when the CB craze hit, he was making good bucks selling parts to CBers. He knew I was saving up for a house, so he would often sell me radio parts extra-cheap or just give them to me outright for my homebrew projects.

He was interested in what I was doing with the parts I'd get from him. I was interested in hearing about his experience in Europe in the 40s.

So our negotiations would often take more than an hour, interrupted by sidetracked topics, phone calls and other customers. Frankly, I enjoyed every minute I ever spent there with him.

I remember his store on Irving Park when one could actually walk anywhere in the front section and examine parts on all of the shelves and in the glass cases. Ya know, the best stuff was in those glass cases! I'm talking double ball-bearing variable caps, zero-backlash gear assemblies and Collins mechanical filters with bandwidths, impedances and center frequencies that were actually useful. A homebrewer's paradise.

Lastly, George was a truly likable and decent person. I was lucky to have known him.

73, George K9GDT
*********************************
photo courtesy K9GDT
George Sopocko SK: 2009
courtesy K9GDT
George Sopocko, SK- 2009
From Frank, W9FM:
It is with deep regret that I report the death of
Mr. Art Housholder,
K9TRG.
Art was proprietor of Spectronics Inc of Oak Park, IL
for many years during the 1970s!
He sold used Motorola gear to hams in those
early days of amateur repeater development!
Art passed away on Tuesday July 7, 2009.
************************************************
During the net on Saturday, May 30th, 2009,
we heard John, K1SCO check in with his ART-13.
That was his last transmission, he had a fatal aneurism
shortly after. (info provided by Frank-KC9NMA)
**************************************